SERVICE GUARANTEE
Reasonable price with good service and take care customer straight to destination.
Ready to serve all passengers at arrival terminal.
Excellent quality vehicle is provided for passenger and all VIP minibus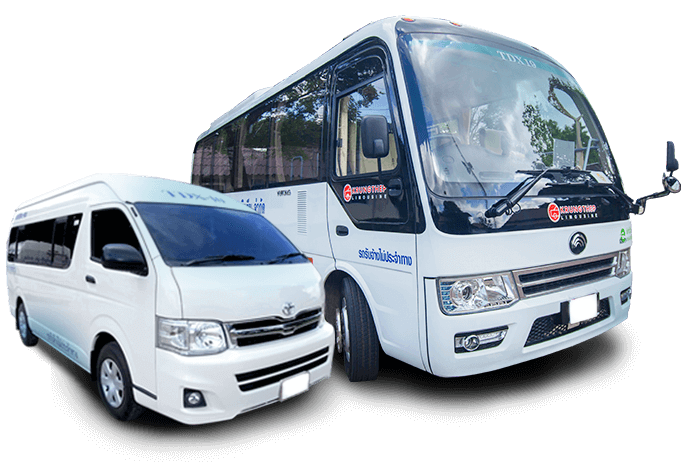 AIRPORT TRANSFER SERVICE
Make it easy, the best travelling to get to your destination with comfort and safety throughout the journey.
 CAR RENTAL
Car rental at the airport is still the better solution to fulfill your traveling convenience, safety and reach to destination comfortably with confident from us. Renting a car is not as difficult as you think. We have a reservation process in the details for car rental. Click here
 LIMOUSINE SERVICE
Krungthep Limousine is the one and only official limousine service at Trat Airport. The prominent airport transfer service serves major cities such as Koh Chang, Pattaya, Rayong, Suvarnabhumi International Airport or Bangkok Center by expressway and highway. Click here
Why should you love Krungthep Limousine ?
If you are one of travel agency about sightseeing tour on Koh Chang which is most popular place of tourist attraction in the East of Thailand and / or you are a customer of Bangkok Airways( Trat Station ). We would like to introduce our company Krungthep Limousine Co.,Ltd. (Trade License No. 0235547000181) ATTA ID No. 03068
Krungthep Limousine Co.,Ltd, takes service about transportation from Trat Airport to hotel on Koh Chang with quality, save, prompt and comfortable offer to all passengers.We are only company which is located in arrival terminal at Trat Airport and prompt to give a service on Koh Chang as main area. If you would like to journey other route such as Suvarnnabhumim Airport,Khao Sarn Road, Pattaya, Ban Phe and etc. we prompt to serve your need.